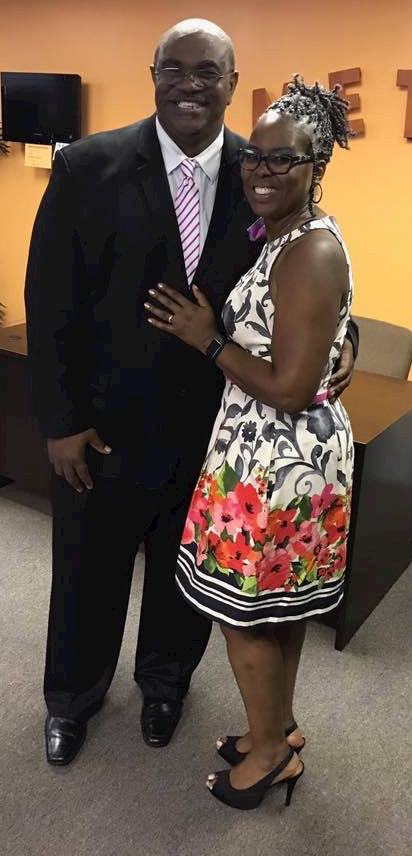 After years of doing ministry in a more traditional paradigm, the Lord laid on Fate's heart to do
ministry with more contemporary methodology within the fellowship of the churches of Christ
. Without departing from his restoration roots, he began the Metropolitan congregation with a group of sold out disciples who are willing to do whatever it takes to be a great congregation for Jesus.
Fate saw a need to reach out to people which may have been turned off and/or turned away by the customary methodology in some churches of Christ. He is often heard to say, "We are reaching out to those whom others in our fellowship may miss." This movement is not anti-establishment but is instead pro evangelistic. As the apostle Paul said in I Corinthians 9:22, "Among the weak in faith I become weak like one of them, in order to win them. So I become all things to all people, that I may save some of them by whatever means are possible." So don't be surprised at the usage of drama, praise teams, immediate prayer, and other methods to help people become fully functioning followers of Christ.
Fate Hagood III was born April 25, 1962 in Birmingham Alabama to Fate Jr. and Irene Hagood. Fate has two younger siblings. Rudy Renard Hagood (brother), and Shatay Deese (sister).
He matriculated through elementary, junior high, and high schools in the Compton and Los Angeles Unified School Districts. He graduated from Dominguez High in 1979. Fate received several awards and commendations for art, theater, sports, education, and writing as a young man. Among those were Mr. State and National Youth conference and the G. P. Bowser award for ministerial excellence. He graduated from Southwestern Christian College with a Bachelor Of Arts in Bible/Religious Education and from Cal State Dominguez Hills University with a Certified Professional Teaching Credential. He is presently entered for enrollment at Lubbock Christian University.
Fate worked as a public school teacher for 15 years. He also worked as a youth minister, associate minister, pulpit minister, and ministering evangelist.
Fate received his religious training through the teaching, tutelage, and tuning of the Figueroa Church of Christ, Christian schools, and men such as R. N. Hogan (minister/pastor at Figueroa Church of Christ), Calvin Bowers (minister at Figueroa Church of Christ), Kinwood Devore(minister at Metropolitan Church of Christ -San Francisco), Richard Barclay(minister/pastor at Cashmere Gardens Church of Christ), Kenneth Greene(minister at Metropolitan Church of Christ-Dallas), Chuck Ferguson (professor at Bay Area School of Preaching), John Brown (professor at Bay Area School of Preaching), and many others. His greatest inspiration in the Christian walk is his mother, Irene Hagood.
Fate is married to the spiritually vigorous and vivacious Mira Alane Hagood. They were wed on August 16, 1986. They have two children Destiny Alane and Fate IV. Fate loves his family and keeps them as a priority in his life.
Fate's duties are:
Pastoral (Feeding the flock; Counseling with God's Word; Leading And Casting the vision)
Prophetic (Preaching & Teaching)
Priestly (Prayers, Supplication, Worship)
Office hours:
Sunday Church services
Monday Off Day
Tuesday 10:00 AM - 2:00 PM
Wednesday 10:00 AM - 2:00 PM
Thursday 10:00 AM - 2:00 PM
Friday 10:00 AM - 2:00 PM
Saturday All day Ministry items
Biblical counseling and spiritual guidance available by appointment; Call (310) 835-3828 or email Info@cochristmetro.com
Brother Hagood also has other scheduled duties most evenings.
Dear friend,
As you navigate through the different pages, you'll find our commitment, our mission, and our core values. If you're interested in being baptized or are interested in becoming a member, you can contact us at
info@cochristmetro.com
to receive more information.
Wherever you're starting with God, you can find hope at Metropolitan. Come as you are for us means a lot more than jeans and tennis shoes. It simply means come as you are, and join with us as we gather together to celebrate the Good News of Jesus Christ.
Again, thank you for checking our web site. And if you would like to be notified via email of events and happenings of interest, please leave us your email at info@cochristmetro.com. I hope to see you soon at Metro as we celebrate the goodness of God together!
Fate Hagood
Senior Minister
Metropolitan Church of Christ