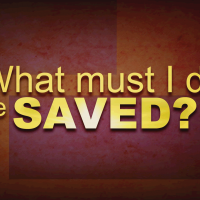 What Must I Do To Be Saved?
Have you obeyed the Gospel?
By Fate Hagood III et al (a combination of articles) | June 1, 2016
This is the single most important question anyone can ever ask. Our souls will exist for eternity, but on the Day of Judgement, Jesus Christ judges all who have ever lived. The saved will go to eternal life while the unsaved will go to eternal punishment (

Matthew 25:31-46

) This is why it is imperative that we be on the right side of the dividing line before that day arrive.

The Bible teaches, "all have sinned and fallen short of the glory of God" (

Romans 3:23

). So

everyone

is in need of salvation. Salvation comes through Jesus Christ. And "salvation is found in no one else, for there is no other name under heaven given to men by which we must be saved." (

Acts 4:12

)

To be saved we must:
1.
Hear the "good news" of Jesus Christ ( Romans 10:14 )
2.
Believe it ( Hebrews 11:6; Acts 8:36; Mark 16:16; John 8:24 )
3.
Repent of our sins ( Luke 13:3,5; Acts 2:38; Acts 17:30; Mark 10:15 )
4.
Confess faith in Jesus Christ ( Acts 8:36-37; Romans 10:9 )
5.
Be baptized, in water, for the forgiveness of sins ( Acts 2:37-41; 1 Peter 3:21; John 3:3-5 )
6.

If there is any way in which we can assist you in your search for the Truth, please contact us.
Back