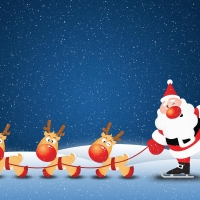 Have A Merry Christmas
By Fate Hagood | December 9, 2015
The Christmas season has become more and more commercial. Scurrying from vendor to vender around to purchase more "stuff". It is easy to forget that the true meaning of Christmas is celebrating God entering our world through His Son Jesus Christ.
Jesus is the reason for the season.
Join us in seeking the King of kings this season. We, the Metropolitan church of Christ, simply want to please God. And not just during the holiday season. Our desire and commitment is to live surrendered lives for Christ every day.
Christ has changed our eternal destiny and given us a real purpose to live for. No matter where you are in your relationship with him, or where you've been, God can give you a fresh new start in life as well.
This Christmas season make sure you are really giving or receiving the Gift that keeps on giving. We wish you a merry time, good food, and the company of good people. But the greatest gift anyone could ever give or receive is Jesus Christ.
Be blessed.
Back